Cone Loader
The essential tool to save time and allows you to fill your cones with ease.
Packing pre-rolled cones is the slowest part of the process. Do it 10x faster with a cone loader kit. Works for any style cone, allowing newbies to the experienced to create a smooth smoke flow that burns evenly.
Use the shovel to collect your weed, stick the loader in the end of your cone and pour it in. Use the packer to get an even and consistent fill to ensure a smooth burn through the entire cone.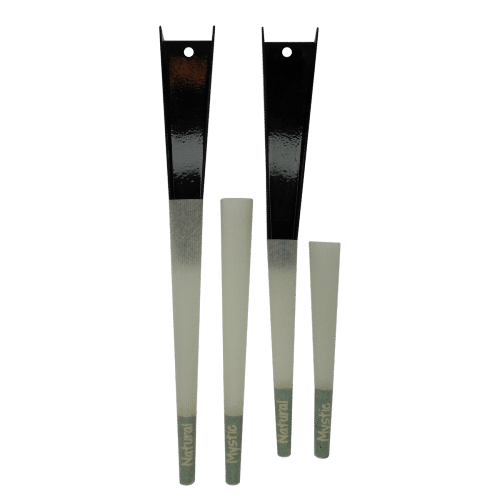 The Best Cone Loader available, usable for both sized cones, easy loading into the funnel and smooth flow of herbs into the cone.
5 Essential items included:
Cone Loader
Mini Scope
Packing Stick
Packer
Grinder Brush
Authenticity
Designed by Natural Mystic for both the King Size & 1 ¼ Size cones to ensure a proper pack to prevent runs – Ensures for a smooth, slow burn of your European watermarked paper filled with a blend of pure organic raw fibers. Seamlessly fill your Pre Roll Cone with Organic Raw Extract anywhere. This Loader is a dual use, you can evenly spread product on your traditional rolling paper sheets for a quick fill, easy roll and a flawless finish. (PATENT PENDING)
Easy & CONVENIENT
Fill your cones is SECONDS – The cone loader is pocket size to conveniently carry it with you in your pouch, stash bag or stash box. An ESSENTIAL tool for filling to give you exact X grams per cone for consistency in quality. Your cones tips have the "W" zig inner & multi criss-cross style to ensure minimal fall through and wastage. A seamless rolled cone compared to using a rolling machine. No unraveling or paper kinks when loading & filling the cone.
Loader & Mini Shovel Features
Made with Light Weight Premium Quality Stainless Steel and coated with a non-stick material that allows a smooth flow of your product into the cone. No residue will be left in the funnel. The filling end of the loader has smooth edges to ensure you do not rip the cone paper mouth when you place the loader into the cone. LIFETIME Usage! Made tough to withstand shipping through rugged mailing systems and delivered in perfect condition for easy use by our customers.
For Newbies & Experienced Rollers
We understand the typical struggles and problems. So we made 5 ESSENTIAL ITEMS for you. Tested with precise quality controls and purposefully designed to slide your product into the cones. The result is a solution for no rolling paper kinks. The ability to gather your product easily and TWO packers to ensure a smooth smoke flow. Compact for easy traveling, road trips and storage in carry on luggage at airports.
The Grinder Brush
The most needed yet overlooked item of all. It allows you to clean between the nooks and corners of your grinder's teeth and your fall through product in the grinder base. Clean EVERYTHING with this little stainless steel Brush – IT IS AMAZING. Shipped in a smell proof bag and it comes with step-by-step instruction to load 109mm & 84mm cones.
Got A Question? We will be happy to answer it, just get in touch.