Organic Pre-Rolled Hemp Cones
Our 100% certified organic pre-rolled hemp cones provide a premium smoking experience with a slow, even and tasteless burn that our customers love.
Using quality organic paper, strong filters that still allow a smooth smoke flow and a food grade gumline glue results in a clean burn for you to enjoy your blend.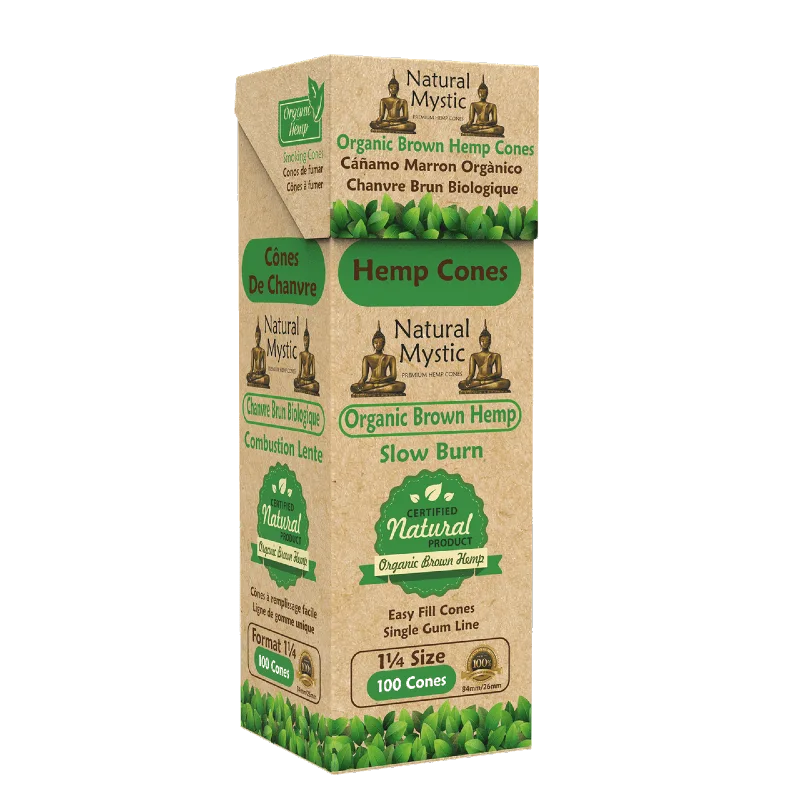 Choose Yours
Unbleached Brown Hemp Cones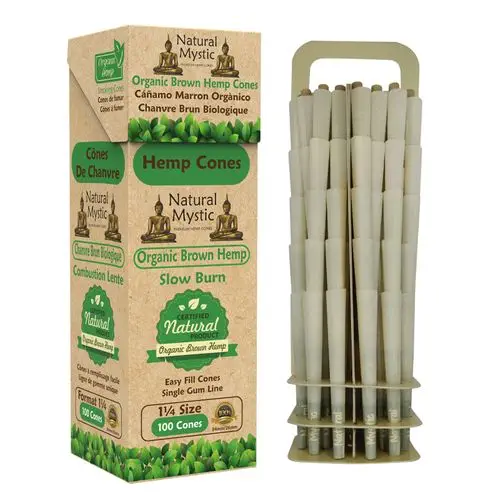 White Hemp Cones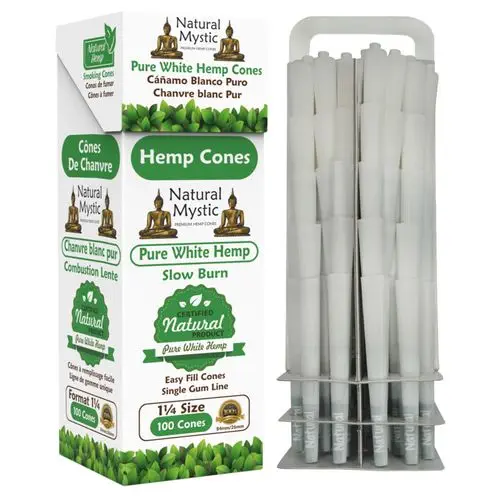 Convenience
Save time and effort in rolling or filling that seamlessly sleek preroll in a matter of minutes. STOP WASTING YOUR TIME and achieve the perfectly rolled cone. Guaranteed to impress you friends – Building confidence for newbies and gaining the trust of experts alike, very little wastage – Easy Fill, Nice Pack and Enjoy The Quality!
Slow, Even Burn
Do you experience runs on your papers? The Natural Mystic blend of organic raw fibers help to prevent runs with slow clean burn. The cone packs easily with an easy twist at the top and a flawless pack for an even burn. Not like the roll from loose traditional rolling paper sheet. VALUE FOR MONEY in every purchase!
Smooth Smoke Flow Filters
Does the filter of your cones get soft during the burn? We understand the struggles and customer problems because we use cones every day. Our cones are designed with a strong multi cut inner filter to withstand the moisture from each drag. Hand rolled by connoisseurs using European paper sheets with exact scale weight per cone for consistency in quality. "W" zig tips with inner multi criss cross style to ensure minimal fall through nor wastage.
Durable Packaging & Environmentally Friendly
Do your cones arrive damaged or in an unfriendly plastic packaging? We deliver our products in a hard paper box – Neatly Stacked, Untouched cones with NO PAPER KINKS! Our innovative slide out cone holder is purposefully designed for easy dispensing of each cone. A solution for shipping through rugged mailing systems and made for sharing with friends, traveling, road trips and easy storage in carry on luggage at airports.
Authentic & Genuine
Are you sure you are buying genuine quality from others brands or Cheap Chinese made cones? Be very careful! Natural Mystic ensures absolute genuine quality in every purchase and consistent quality for each cone, we are the ONLY SELLERS of our products! Rolled exclusively at our facility with VERY Strict Quality Controls. NO COUNTERFEITS, We build customer confidence in our authentic products sold to our brand loyal customers.
Need Help Packing?
See Our Guide
We get asked a lot of questions and one of the most commong is 'how to pack a cone?'. So if you are in the same boat, don't worry you are not alone. That is why we made a handy guide to help you get the perfect cone!
Helpful Info
Joints and Blunts
We have a dedicated article to the difference between a joint and a blunt but if you want the quick and easy definition, here you go:
Joints – Is cannabis rolled in cigarette paper with a filter.
Blunts – Cannabis too but instead of cigarette paper it is rolled in a tobacco leaf (typically from a cigar).
There main points of difference are:
Size – Blunts are bigger. The more sturdy paper allows for packing more flower too.
Flavor – The paper used in joints affects little on the flavor of the smoke.
Nicotine Hit – Since the wrap is made from tobacco there is nicotine present.
Burn – The tobacco leaf makes for a slower burn.
What To Use As Paper When You Are Caught Short
Our Cones come in packs of 50 or 100 so you should never find yourself without a cone to pack, however if you do and you need to use something in desperation check out these rolling paper alternatives:
Empty out a Cigarette.
Uncolored tissue paper.
Dictionary or Bible pages.
Gum Wrapper.
Brown Paper Bag.
Articles That May Interest You
You're wondering how to pack a cone. Don't worry, you're hardly alone there. The world's getting to be a more and more stressful place by the day. And it's even easy to stress over the very activities that we set aside to act as an island of calm within the storm of life. But you …
Read more
Got A Question? We will be happy to answer it, just get in touch.