Hemp Wick
Hemp wicks offer a way to light your weed in a way that won't harm the taste nor add any pollutants into what you inhale. Lighters contain butane and other gases and when using them, you draw them in along with your smoke.
Using organic hemp string as the wick which is coated in bees wax to ensure a slow, consistent burn, you can be sure you are breathing in natural ingredients which won't affect how your product tastes.
Our Wick Features:
Slow Burn Control
Drip Free Wax – No Mess
Convenient Dispenser & Hand Wrapped
All Natural & Vegan Friendly
Arrives In A Smell Proof Bag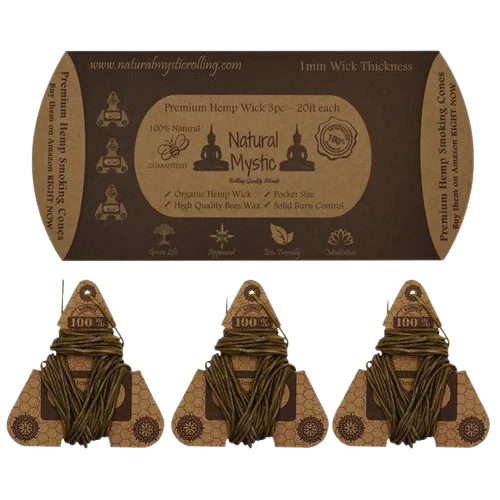 Smooth, Slow Burn
Natural Mystic Hemp wick is made from 100% organic hemp fibers 1mm in thickness & coated in a pure bees wax blend to ensure a low temperature full flame for lighting all types of product blends. The slow, even burn allows for no wax dripping. Full length is 20ft to ensure it lasts a long time, plus there are 3 in the pack meaning you have 60ft of quality wick to use.
No Drip Premium Quality Wicks
All natural stiff wicks for perfect placement as a poking tool with a flame, seamlessly hand pre-rolled as an alternative to butane lighters. The Natural Mystic Logo Watermarks on the strong hard triangle tips, vegan friendly bees wax for a very clean taste and flavor. A Quick fill and light, twist at the top or flick to put out the flame. An easier option than traditional matches for candles or small lighters.
Easy To Use Triangle Design
The tri shape card dispenser corners allow for easy holding at the edges and precise placement for newbies. These dispensers are convenient for well experienced guys and gals with our firm paper tips that do not bend and all natural single line wick for a strong light to raw organic big cones ensuring no unraveling of blends when lighting. Use our Natural Mystic Cone Loader for loading & filling, our packing stick and our organic wicks for lighting.
Pocket Size
Simple & Easy to move around with. Stop large uncontrollable flames these card holders are AMAZING. Our airtight smell proof bags for shipping and our innovative triangle design is made with durable packaging designed purposefully sealed thick case bag for shipping through rugged mailing systems and easy use by our customers. Our quantity packs were made for sharing with friends, traveling, road trips and easy storage in carry on luggage at airports.
New To Hemp Wicks? Get Up To Speed Here:
So what are they exactly?
A hemp wick is an essential piece of your smoking kit that you use to light your pipe, bowl or cone. It is hemp fibers spun into a twine which is then dipped into beeswax to ensure a slow and consistent burn. Smoking using a hemp wick means you do not inhale any butane or other chemicals when using a lighter or matches. This is not only healthier but it means those chemicals do not affect the taste of your cannabis flower. For a full run down on them please see our 'what is a hemp wick' article.
Healthier than a lighter.
When smoking using a lighter small fragments of flint get on your bowl or joint as well as the butane you breathe in as you draw. Butane and flint are not good, compare that to organic hemp fibers and natural beeswax. It is pretty straight forward that hemp wick is better than a lighter.
Advantages of using hemp wick.
There are many benefits of hemp wick over using traditional lighters. The main points are:
More Natural – It is only organic hemp fibers and natural beeswax, no additives or chemicals.
Lower Burning Temperature – Butane is a propellant and burns very hot which affects the combustion of your flower.
Pure Taste – No chemicals to taint the flavor of the flower.
Pleasant Scent – Everyone enjoys the smell of beeswax.
More Control – Due to the slow and consistent burn it makes it easy to control when lighting.
Environmentally Friendly – Not using so many disposable lighters is better for mother nature.
Is it only for lighting weed?
Absolutely not! Infact hemp wick is great for a wide variety of uses and many of our sales come from people outside the smoking world. Some popular other uses are:
Camping
Twine/String Alternative
Firestarters
LIghting BBQs
Lighting Multiple Candles
These are only things we know people utilize it for but basically because it is so versatile your imagination is the limit here.
Our Articles on Hemp Wicks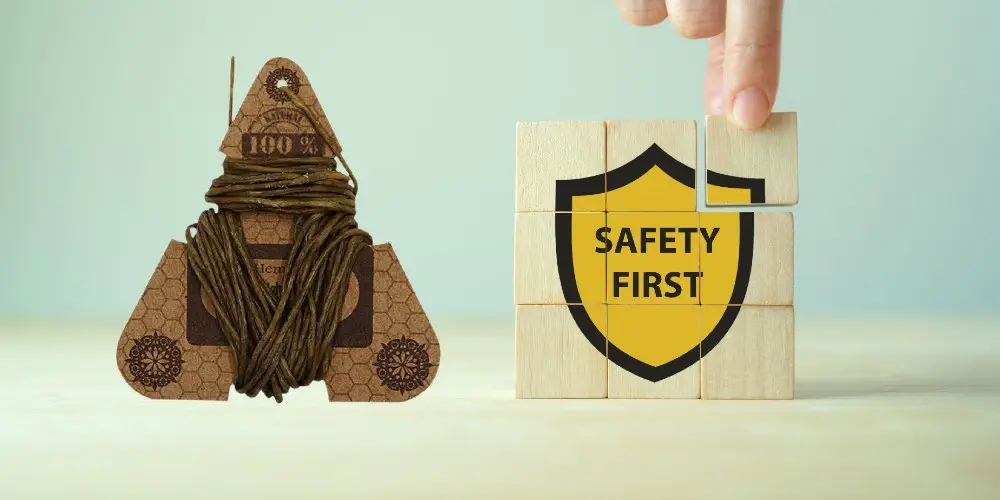 Using a hemp wick for your smoking sessions can enhance the enjoyment and provide a more natural alternative to traditional lighters. However, it's essential to exercise caution and follow safety guidelines to ensure a secure environment. In addition to the steps outlined in our article 'how to use a hemp wick', there are a few …
Read more
Got A Question? We will be happy to answer it, just get in touch.